Bitcoin holders throughout the world will begin to ignore Elon Musk's incessant tweets, and the Tesla chief's influence will have no bearing on the market.
That's the view of an industry leader who is one of a growing army of people involved in cryptocurrency becoming tired of the South African's constant up-and-down relationship with Bitcoin.
The 49-year-old entrepreneur has had an eyebrow-raising level of influence over the price of BTC throughout 2021.
Earlier this year, he announced to his 56 million Twitter followers that Tesla would accept Bitcoin as payment for its vehicles. Crypto prices sky-rocketed across the board.
There soon followed a change of heart when he decided Bitcoin's carbon footprint was too big to ignore while selling eco-friendly cars, so he tweeted that Tesla wouldn't take digital assets until Bitcoin mining upped its green game.
Bitcoin rocked by Elon Musk's dramatic Tesla announcement
Bitcoin barely budged at the news, but a series of jibes and memes taking childish jabs at BTC have since affected the markets.
Last night, just as Bitcoin was into what looked to all intents and purposes like a robust recovery, Twitter's pantomime villain was at it again. This time he tweeted a photo of a couple breaking up, accompanied by the Bitcoin hashtag and a broken heart emoji.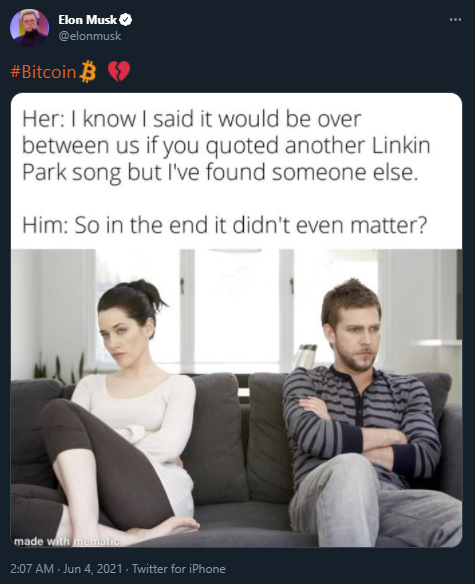 Ethereum, Cardano, BNB – everything – took a sharp drop. Bitcoin itself, poised to stage an assault on $40,000, fell from a lofty $39,200 to $36,000.
The fact, though, that the world's flagship cryptocurrency again arrested a social media-influenced drop is a good sign that the cryptocurrency world is beginning to toughen up against the meddling of people like Musk.
That's certainly a view held by Mercuryo COO and co-founder Greg Waisman, who says Musk's mischief often paves the way for unhealthy market activities.
"To a large extent, Bitcoin investors are learning to ignore tweets from Elon Musk and this was made evident as the price drop was not as huge as we have seen before," he said.
"Bitcoin investors strive to maintain a united front by limiting how they panic sell – this is a good start for Bitcoin."
He also thinks investors are becoming wise to the Tesla boss's antics and developing a resilience which has perhaps been much needed in crypto.
"We are getting to the point where crypto stakeholders will react only based on relevant fundamentals," he added.
"The cryptocurrency industry is growing towards maturity, and to a large extent, knowledge accumulation is taking the center stage.
"As market stakeholders get additional knowledge, they will learn to base their decisions on the influences that matter most, like regional regulations."
Kiwicrypto recommends:
'Just Ignore Elon… DO NOT FOLLOW on Twitter'